FOR NATURAL GAS RELATED EMERGENCIES
CALL 888-931-3411, 24 hours a day
The statistics are clear. Damage during excavation is the leading cause of pipeline damage and accidents. We need YOUR help to prevent pipeline accidents.
Before you dig in your yard, expand a garden or field, or excavate an area of land, learn where pipelines and other utilities are buried.
Just a few simple steps prevent emergencies:
Call 811 (www.call811.com) or Gopher State One Call (www.gopherstateonecall.org) at (800) 252-1166 before you dig.
Trained technicians will mark the location of utilities and pipelines at no cost to you.
Respect the line markers, leaving them in place while you work.
Dig with care.
Protect your property and your pocketbook. Damages caused by customers who did not call before digging are paid for by that customer. Calling first makes all the difference.
Call Before You Dig
Are you utilizing the Gopher State One Call 811 system? You must call in located at least two business days prior to doing any digging on your property. By following this important step, you will prevent service interruption for both you and your neighbors.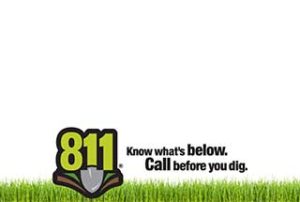 Safety Tip 
As you are spring cleaning, take a few minutes to clean around your furnace and water heater! Never store rags, boxes, newspaper, chemicals or paint cans around these appliances.